Oct 14, 2020
9 Ways to Kill Germs Around the House
If all the talk of a "twindemic"—the overlap between COVID-19 and flu season—has sent you into a cleaning frenzy, you're not alone. But it takes more than a simple paper-towel swipe of the counters and doorknobs to clean …
Good Housekeeping
Make Your Bedroom Better for Sleep
When it comes to sleep, it is important to ensure that you are as comfortable as you can be. But comfort doesn't just mean a cozy comforter …
RIS Media
DIY Kitchen Transformations
Throughout North America, homeowners are making changes to their living spaces. With minimal investment and just a weekend of time …
Extreme How-To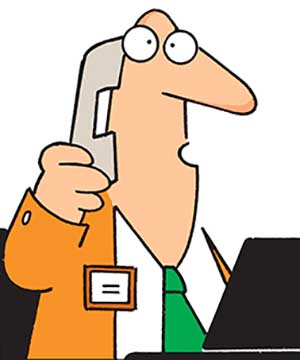 "I found a 12-bedroom egg carton in you price range, Mr. Dumpty."


Copyright © Randy Glasbergen
Trivia
What do the initials S.O.S. stand for in the brand of steel-wool soap pads marketed under that name?
See the answer below.
Decorating with Nature In Mind
When fall's brisk air encourages us to shift activities indoors, why not bring the season's bounty with us to make our homes …
Boulder Country Home and Garden
What Year Was It?
Victory at Yorktown
Hopelessly trapped at Yorktown, Virginia, British General Lord Cornwallis surrenders 8,000 British soldiers and seamen to a larger Franco-American force, effectively bringing an end to the American Revolution.
The day was Oct 19. What year was it?
Quote of the Week
"This 'telephone' has too many shortcomings to be seriously considered as a means of communication. The device is inherently of no value to us."
Western Union internal memo, 1876
Trivia Answer
What do the initials S.O.S. stand for in the brand of steel-wool soap pads marketed under that name?
Answer: Save Our Saucepans
SUBSCRIBE TO OUR NEWSLETTER
NEWSLETTER ARCHIVES